List of good comedy TV series available on Prime Video.
Amazon Prime Video has a great collection TV shows in almost all genres - drama, Sci-Fi, comedy, Romantic comedy, etc. In this post we are going to look at the best comedy shows available for you to watch instantly.
Seinfeld (1989-1998)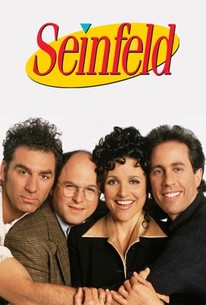 Seinfeld
Seinfeld follows the neurotic adventures of Jerry Seinfeld and his neighbour in New York. His friends Kramer, George and Elaine play an important part in the characters life. It's a great story of four friends who live the best times of their lives without themselves knowing about it.
If you liked watching FRIENDS then consider this show full of best comedy that Friends has to offer. Characters like Kramer, George, Elaine and of course Seinfeld are top notch in terms of making you not only giggle but LOL.
Two and a Half Men (2003-2015)
Two and a half Men
Jingle-writer Charlie is forced to change his lifestyle and learn to control his drinking, smoking, gambling and womanizing when after a twelve years marriage his fresh dumped-by-wife brother and his son need a place to stay. Everything re-changes again after almost ten years when Charlie dies. Everybody's devastation is swallowed when internet billionaire Walden Schmidt buys the house that used to be Charlie's and nothing is the same.
The Tick (2018-Present)
The Tick
In a world where superheroes have been real for decades, an accountant with mental health issues and zero powers comes to suspect his city is owned by a global super villain long-thought dead. As he struggles to uncover the conspiracy, he falls in league with a strange blue superhero. They launch into an adventure brimming with crazed archvillains, blood-soaked vigilantes, and superhuman freakery.
Joey (2004-2006)